Too Tangled to Move
Too Tangled to Move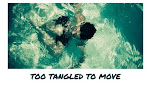 Too Tangled To Move, is a contemporary young adult novel.
At seventeen, James Fitzpatrick is in serious trouble—not that he would admit it. He can't remember half his screwed-up childhood, drinks to cope with his dissociative disorder, and is experimenting with drugs. If it weren't for his best friend, Caleb, James would have given up a long time ago.
Caleb rides James about school, reminds him to listen to his shrink, and most importantly, always makes sure he stays on this side of the grave. But when Cassie moves into the neighborhood the summer of senior year, Caleb's focus shifts to her. As Caleb's relationship with Cassie progresses, James fears he might lose his friend for good.
To make matters worse, Cassie doesn't treat James like he's broken—and he likes it. As they become closer, James' brain begins to thaw, and so does his heart. When random memories begin to surface, Cassie becomes his confidante, instead of Caleb. Soon James finds himself falling in love with the one girl he can't have and lying to the one person he can't live without.
But Cassie causes as much stress as she cures and being disloyal to Caleb screws with James' conscience. When Caleb discovers James and Cassie's relationship, James is forced to decide where his loyalties lie; before he loses everyone.